The other week, I presented to the Real Estate Institute of Western Australia at Crown in Perth. One of the stories I shared was the frustration I experienced as a paperless person selling our family home in Perth five years ago. I had people asking for fax numbers, ridiculous amounts of forms and other pieces of paper being sent to me via snail mail and contracts that had been annotated, scanned and emailed so many times that they were illegible.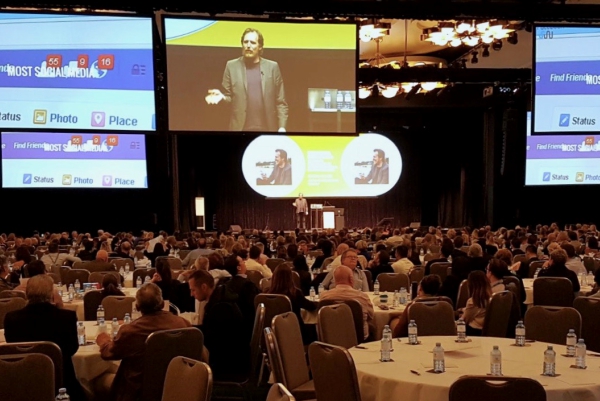 But that was all the way back in 2011, and oh how the technology has got better since then. According to Moore's law, by the time it came to buying our new home in Melbourne five years later the technology should have been at least eight times better…and yet I struggled through the same inefficient paper driven processes I had previously.
The technology is getting better but many of the processes aren't.
One of the most common reasons that I hear for organisations not investing more in technology is "our clients/suppliers/staff aren't ready yet" but whether you think they are ready or not, your lack of investment in technology is probably holding both them, and you back.
Firstly, we need to acknowledge that any generalised statements about the characteristics of people are flawed. There will always be some people ahead of the curve and there will always be some behind it. This means that the portion of your clients/staff/suppliers who are early adopters (the ones who know what technology makes possible in terms of convenience, usability, time saving and quality) are currently feeling frustrated and perhaps just a little bit disappointed. This was very much my personal experience.
You could suggest that I'm an exception — that most people are generally comfortable with the status quo and they don't feel disappointed at all, and I would suggest that this is only because you haven't shown them what's possible. Technology development is ultimately funded through developing solutions that improve customer experience and the speed and quality of outcomes. So we may not be disappointing our slow adopters yet but we are not necessarily serving them either.
And I would add that there are probably more people ahead and less people behind the curve than you think. The consumerisation of IT means that most of us have access to better technology at home than we do in the workplace which means the level of proficiency you see is far less than what people actually have. The number of people you're already disappointing might be far greater than you think.
We are currently recruiting for the next intake of the Digital Champions Club. Join a 12 month program that is guaranteed to improve organisation performance and deliver measurable value. Check out the Program Structure.
https://www.digitalchampionsclub.com.au/wp-content/uploads/2018/10/Stop-holding-your-clients-back.png
400
1024
Simon
https://www.digitalchampionsclub.com.au/wp-content/uploads/2016/09/The-digital-champion-logo-top-menu-2-80x80.png
Simon
2017-10-06 12:00:59
2018-11-26 11:40:25
Stop holding your clients back